Welcome to our website - Home of Heirloom Hourglass™, The Original Wedding Hourglass™ Made in America - Proudly Handcrafted in The USA since 2007.
Time is Measured in Moments...
Capture The Moments, Preserve Your Memories, Create an Heirloom during Your Unity Sand Ceremony on Your Wedding Day. All You Need is an Heirloom Hourglass, Sand, and Each Other to Bring Your Once In A Lifetime Home. If you are searching for a Wedding Hourglass™, Sand Ceremony Set, or Sand Ceremony Wording, you have found the most romantic and meaningful anywhere. 
Heirloom Hourglass is the perfect complement to any Beach Wedding or Church Wedding and also makes a great Wedding Gift, Engagement Gift, Anniversary Gift, or Personalized Gift for Any Occasion. The Perfect Wedding Keepsake, Every Heirloom Hourglass Wedding Unity Sand Ceremony Hourglass Sand Timer comes Empty, Fully Assembled, Ready to Fill With Your Memories.
We also offer Sand Ceremony Sets and Wedding Unity Sand Ceremony Sand.
OUR MOST POPULAR UNITY SAND CEREMONY HOURGLASSES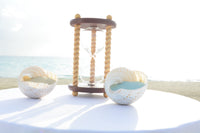 The Newport Wedding Unity Sand Ceremony Hourglass™
"Thank you so much for helping to make our wedding ceremony special!!" Brent and Rhea – Married  in Jamaica
Contact Us - Chat is the best way to reach us. You will receive a response via chat if you are still on the website or via email if you have left the website. Please be sure to provide an email address if you leave the website.
Email - Hello@HeirloomHourglass.com   Phone - 315-845-1528